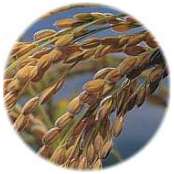 I ate some rice tonight. It was long-grained Basmati, flavorful enough to bring back images and memories of a small rural village in the Maharashtra district at sundown.
Chanting can be heard over the hills off to the far left as new constellations (and a few old familiar ones) rise and set where there's a marble Shiva temple on a distant hill. Small fires cook the evening meal in dots along roads of dust and iron grating.
Prompts are to be found anywhere and everywhere. I found tonight's in my mouth when I suspected I wasn't even thinking about writing.
This tells me two things.
I think about writing far more often than I realize.
All is food for the beginning, middle, or end of a piece, no matter how short or how long.
What prompts your writing? Think of a piece you wrote, whether you especially love it – or not, and see whether you can trace it back to the beginning… conception.
We'd love to hear any sparks that started an adventure in your writing.