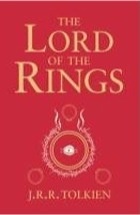 When I think about characterization, I develop arcs based, in part, upon the philosophies each character holds in his, her, or its heart. I want to know this about the characters, even if that information never overtly appears in the pages of the book.
A spectrum I like to use is whether the character values ends or means more… and whether they move from one position at the start of the story and end somewhere else.
One of my favorite books is 'The Lord of the Rings,' by J.R.R. Tolkien. I love this book as I have from my early teens. While it is in no way thoroughly representative of my interests as a reader, I find it an excellent glass through which to perceive various philosophical, existential, and organizational questions about life and writing.
First up, these two statements:
"The ends justify the means."
-OR-
"The means justify the ends."
An interesting exercise is to take some favorite characters of your own, or for this example, from Tolkien, and see where they would appear on this spectrum.
I'll mention Gandalf ™ and Gollum™ because of the many people acquainted with these characters from either the volume(s) or the Peter Jackson movies which take the books as their source material.
It strikes me that Gandalf considers the means the more important aspect on which to hang his wizard's hat most of the time. Means are the 'now,' the moment within his control, to the extent that he has any . If he takes an action, he thinks about it in advance, constantly revising, if need be, and relying on intuition as well as his other senses to know whether it is right. If something he does runs afoul of his personal integrity or wisdom, he knows that he is likely to see this wrinkle exaggerated in the end results.
He values the importance of each step he takes, and lets the end take care of itself thereby, quite possibly in the direction he'd like to see.
On the other hand, there's Gollum, and all he wants is the Ring of Power ™. He will do anything, take any means to get it, even though we get a split sense of dimension what with the two sides of his personality occasionally bickering, cajoling, manipulating. As long as Gollum gets the ring in the end (don't worry, no spoilers here), he is happy, for the most part, with whatever means he has taken.
Not surprisingly, it would seem that Gandalf and Gollum think about one another or at the least, figure into each other's vision of the future and/or past:
Responding to Frodo who expresses outrage that Gollum was allowed to live after Gandalf's last meeting with him, the latter speaks one of my favorite quotes (of many) from the book:
SPOILER WARNING:
"Deserves it! I daresay he does. Many that live deserve death. And some that die deserve life. Can you give it to them? Then do not be too eager to deal out death in judgement. For even the very wise cannot see all ends. I have not much hope that Gollum can be cured before he dies, but there is a chance of it. And he is bound up with the fate of the Ring. My heart tells me that he has some part to play yet, for good or ill, before the end; and when that comes, the pity of Bilbo may rule the fate of many – yours not least. In any case we did not kill him: he is very old and very wretched. The Wood-elves have him in prison, but they treat him with such kindness as they can find in their wise hearts."
OKAY – safe again
Admitting that one cannot see all ends may be the elixir that bestows a healthy dose of respect for means.
 ~*~
This is one axis to look at in the characters and the story, and it can be a fun one. If I cross this axis with a second, things can really heat up, debate-wise. This is why, for example, I mentioned 'personal integrity' rather than societal or relativistic. More on this later…
-Does this method of drawing out characters resonate with any that you love, hate, or both – that you've read, seen, or written?
-In this example, Gandalf is considered 'good' though he, like all wizards, is 'subtle and quick to anger' when meddled with, while Gollum is something quite different. Are there examples in stories that spring to mind where those polarities are reversed for protagonist and antagonist?
We'd love to read your thoughts in the comments below.