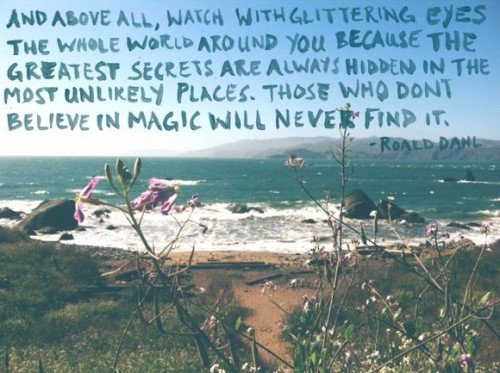 (Andrea)   There is magic everywhere. We just have to be aware and open.   It's a puzzle, but once you see the pattern you can find it if you want to. It's also a game of hide and seek. Ask a question, spin yourself around, and then go find the answer.
Sometimes, it's about admitting you're afraid. Look at your fear and know that it will all be okay.
I took yesterday off since I worked all day [that] Saturday. I was very happy about being able to get some good organizational work done on the book. I was a little discouraged when I read on the Internet that some readers don't like flashbacks, and that they are much more interested in the present. You may lose the reader if it's not done correctly.
I have fretted about this since we need back story. Can the flashbacks hold the reader's interest? Without them, I feel the story would fall short, so I am leaving them in. We may need to tweak and remove unnecessary parts, but I vote yes to the back story. (Leslie: "And I like it too.")
After taking yesterday off, however, I haven't been able to get back into the groove again today. I've been getting down on my work. Still, I know it's a good story. Will others feel the same?
I watched a show that is in its final season. Though earlier seasons were enjoyable, this was not very good. They kept doing flashbacks for no reason other than filling space. It's really boring. That was also where some of my fear's been coming from today.
As I was sitting in doubt, my other sister sent me a "Words with friends" word. I looked at the word she sent, and it was, "Hope." It was a much needed word on a day like this… a synchronicity of sorts, bringing the shift that I needed.
I shuffled my letters. Not the best ones. HHPADLS. What to do with that? I tried a few different combinations using 'S' at the end of hope. They all came back as 'Not a word.' I finally tried something different since I knew the word 'Dal' as lentils. I added an H for extra points to see if it would go. It did.
Now, sometimes I look up words when I don't know what they mean. I wasn't going to with this one but something nudged me.
Half way down the search results, I saw, 'Roald Dahl.' I'd never heard of him before but I did see a blurb that he was the writer of "Charlie and the Chocolate Factory."
Willy Wonka is a longtime favorite of mine as I am sure it is for many people. But the thing you see is that Willy Wonka has continued to come up since before I started writing the book and it keeps coming up. I see it all over the place. It's even referenced in the book we're writing.
Then I read some of his quotes. They spoke to me clearly. Of all the great ones, this one jumped out at me:
"Those who don't believe in magic will never find it."
Well, I believe.
The next word my sister sent was, "Have."
I put them together and I 'Have Dahl's Hopes'
See the magic. Be the magic. That is my wish for everyone in this day and age.
 ~*~
(Leslie) This was written when August was brand new, and a lot's flowed under the writing bridge since then. After writing the above, Andrea had seen Roald Dahl pretty much everywhere in the interim… so it only made sense to post this entry on what would have been his 98th birthday… today: the thirteenth of September.
Since this awareness of his existence has become evident, he whispers to us. We strive to approach that state where he lives, looking ever more closely, more carefully, for every tiny speck of magic. Then we can expand it on a daily basis, seeing ourselves stepping inside as we do.
EARLY EDITION (T-85 minutes, Birthday Edition)